Charleston, South Carolina (May 15, 2019) — Critical Solutions International (CSI) and partner BlackBox Biometrics (B3) announced today that the Henry M. Jackson Foundation for the Advancement of Military Medicine (HJF) has placed an order for 10,000 Blast Gauge sets. The order is part of a multi-year effort of HJF to support the largest-ever operational blast overpressure monitoring program, tracking blast exposure associated with firing shoulder-fired weapons, howitzers, and mortars.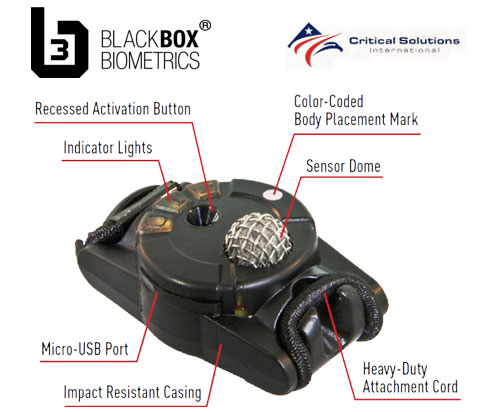 The blast monitoring program, Combat and Training Queryable Exposure/Event Repository (CONQUER), is an operational monitoring program with the primary goal of providing leadership at all levels with objective measures of blast exposure to provide safety recommendations and mitigation strategies needed to maximize force protection and warfighter readiness. In conjunction with planning led by the Defense Health Agency (DHA), CONQUER supports key surveillance requirements of a congressionally mandated longitudinal medical study on blast overpressure exposure of service members during training and combat. Managed through the Uniformed Services University for the Health Sciences' (USUHS) Center for Neurodegenerative Research & Medicine, CONQUER primarily monitors blast exposure on Special Operations Forces personnel, one of the most at-risk military communities. Through CONQUER, investigators will monitor, record, and analyze the data of blast overpressure that service members are exposed to from firing heavy weapons in training and combat operations. With an increasing number of studies suggesting the correlation between repetitive overpressure exposure and traumatic brain injury (TBI), the CONQUER program is invaluable for the Department of Defense's (DoD) programs to improve the long-term health and safety of the warfighter.
The Blast Gauge® System is a 3-sensor set worn on the head, chest, and shoulder that records the pressure and acceleration from explosive blasts. Interrogated Wireless™ technology allows for real-time secure data transfer to quickly guide triage, and the green, yellow, and red status LEDs provide instant exposure data at the press of a button. Complete time-based data can later be exported and analyzed by medical personnel for tracing to emergent symptoms. Each gauge weighs slightly more than an ounce and takes up less than one and a half cubic inches of space, making the Blast Gauge virtually unnoticeable to users.
"We are very pleased to continue our work in support of the health and safety of our service members," said Dr. David Borkholder, founder and Chief Technology Officer at B3. "We now know that overpressure exposures, including those from heavy weapons, represents an occupational hazard to our service members with implications to readiness and long-term cognitive health. The work being done by DHA and USUHS to address this issue will allow the military to measure and mitigate this threat, resulting in a positive impact on the long-term health and well-being of those who serve our country."
"BlackBox Biometrics is a leader in innovative, state-of-the-art technology that is transforming the way we protect the brave men and women of our armed forces," said Congressman Joe Morelle (NY-25). "I'm so pleased that this significant contract will not only lead to the expansion of manufacturing jobs here in Rochester, but will also help inform the next generation of research to prevent traumatic brain injury. I congratulate B3 on reaching this milestone and look forward to their continued success and growth."
The $6.4 million order includes 10,000 Blast Gauge sets and a twelve-month service component provided by B3 to support and guide the DoD's research efforts. In addition to technical support, B3 will prepare in-depth expert classification of blast data collected during the program to ensure medical researchers, and ultimately the unit commanders, receive extensive metrics of each service member equipped with Blast Gauges. This order will also create manufacturing jobs at B3's facility in Rochester, NY.
For more information about CSI, please visit www.c-s-i.com.
For more information about B3, please visit www.b3inc.com.