100% American sock brand wins large DLA contract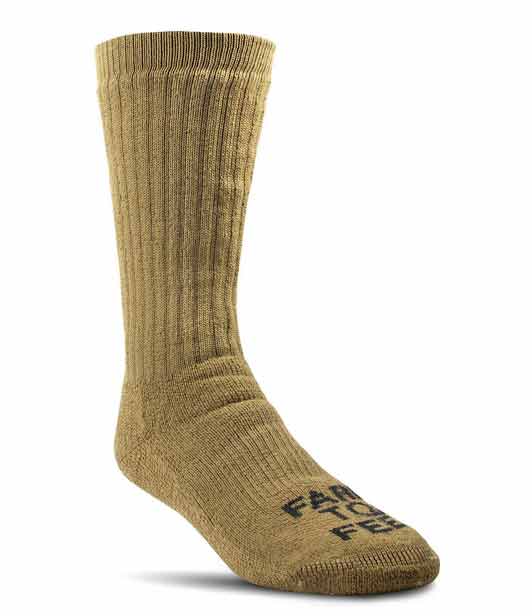 Mt. Airy, North Carolina (September 15, 2020)— Farm to Feet, makers of 100% American socks, announced today that it has been awarded a significant order from the Defense Logistics Agency (DLA) for its US merino wool Kodiak and Fayetteville styles. This order is in support of the U.S. Army's need for technically advanced socks for the warfighter.
"We design, develop, and manufacture the very best socks using only U.S. sourced materials," said Kelly Nester, Farm to Feet CEO. "Those who serve in the armed services require socks that support their mission without fail. As a result, servicemembers are some of the most discerning critics, as they require socks that can stand up to the rigors of deployment. Receiving this contract further solidifies our belief in our products and Farm to Feet is honored to support our soldiers' need for American-made socks"
Named after the home of the Naval Special Warfare Cold Weather Detachment Kodiak, the Kodiak is a heavy weight sock knit with the traditional sock construction that produces classic heather textures with nylon plaiting and stretch yarns in the outer layers and U.S. merino wool body yarns on the inside. The nylon reinforcing yarns knit into the stretch
shell increase durability, while the wool fibers that sit closer to the skin provide maximum comfort and insulation.
The Fayetteville is adapted from Farm to Feet's most technically advanced hiking sock, the Damascus. Made with ultra-soft 19.5 micron U.S. merino wool on an advanced 200 needle knitting machine, the Fayetteville provides the comfort of a thicker sock in a lightweight package. The Fayetteville also feature micro-channel circumferential ventilation, targeted
hexagonal reinforcement, and an improved comfort compression with LYCRA® fiber for reduced fatigue and added comfort.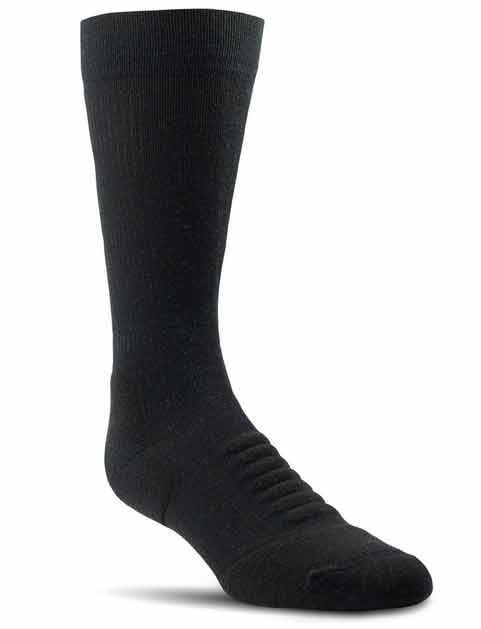 To assist with the development of its military business, Farm to Feet recently engaged Rising Tide Associates, a boutique public affairs firm specializing in government affairs based in Marblehead, MA.
"At a time when there is an increasing focus on the need to support manufacturing in the United States, Rising Tide Associates is delighted to work with Farm to Feet on their strategic effort to grow business with the federal government," said David Costello, Principal of Rising Tide Associates. "Farm to Feet offers a compelling proposition for the
armed services – every pair of socks manufactured by Farm to Feet is Berry Compliant, using a completely domestic supply chain to ensure that from the sheep in the field to the sock on the foot, all materials and manufacturing are 100% domestic – offering a array of top performing socks that meets the needs of any military application."
To learn more about Farm to Feet and its 100% American and Berry Compliant socks visit www.farmtofeet.com.
ABOUT FARM TO FEET
Farm to FeetTM is committed to the single, simple goal of creating the world's best wool socks by exclusively using an all-American recipe: US merino, US manufacturing, and US workers. With its supply chain completely within the U.S., Farm to Feet is able to ensure the highest quality materials and end products, while having as little impact on the environment as possible. Once the wool is grown and sheared in the Rocky Mountains, the remaining processes take place within 300 miles of its sustainability-focused knitting facility in Mt. Airy, NC. All Farm to Feet socks feature seamless toe closures, a comfort compression fit from the top through the arch, and superior cushioning for ultimate performance and comfort. Learn more at www.farmtofeet.com and @farmtofeet.