Seattle-based leader in cold weather clothing and equipment to provide innovative glove system for U.S. Army cold weather units
SEATTLE, Wash. (August 4, 2021) Outdoor Research, LLC. (OR), a leading brand in the outdoor and tactical gear industry announced that the company in partnership with Prime Vendor ADS Inc., has been awarded a multi-year $49 million contract from the U.S. Army for the next generation Cold Weather Glove System (CWGS). The interchangeable system is comprised of five individual gloves with varying levels of temperature protection and is customizable depending upon mission requirements. The Army received several offers from industry for this Program of Record (POR), ultimately selecting Outdoor Research based on the capabilities of the OR glove system and the company's past performance providing best in class cold weather solutions for American warfighters. Army Contracting Command Aberdeen Proving Ground Maryland will oversee this contract.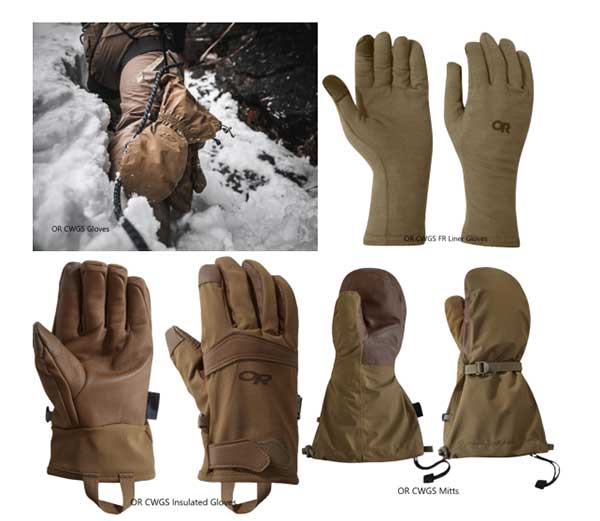 The Outdoor Research CWGS includes a fire resistant (FR) liner base layer glove, a next to skin glove for cool conditions, a trigger finger mitten for cold to extreme cold conditions, a regular mitten that can combine with other gloves and a white overglove designed for cold weather and snow camouflage. Each glove within the system is designed as "no melt, no drip" to protect against rapid heating during combat operations. The CWGS provides protection from 40 degrees Fahrenheit down to -70 degrees Fahrenheit. Each glove can be worn independently or layered to provide scalable protection against a variety of temperatures.
Combining elements of the CWGS provides for "fast doffing," or rapid removal for short-term manual dexterity and combat operations. The individual five-finger gloves provide index finger and thumb touchscreen compliance while the mittens are waterproof, windproof and seam taped for unparalleled protection against cold weather elements. The over-white mitten is made of Alpine MulticamTM and fits over multiple glove/mitten combinations, providing camouflage in winter conditions.
"The contract award for the OR Cold Weather Glove System is the culmination of three years of work by our dedicated team of engineers and production staff and represents the largest contract award in the history of our company," said Roger Barton, President of Outdoor Research. "Providing best-in-class cold weather gear to the U.S. Military is one of the most important things we do as a brand."
Outdoor Research will manufacture the 100% Berry Amendment compliant CWGS in Seattle, WA and El Monte, CA. Both facilities are equipped with state of the art sewing and seam taping equipment operated by highly trained, skilled workers.