U.S. Senator Chris Murphy (D-Conn.) on Wednesday was presented with the Warrior Protection and Readiness Coalition (WPRC) 2020 Sentinel Award for his legislative leadership on behalf of the domestic defense industrial base that supports U.S. service members and homeland security personnel. The Sentinel Award specifically recognizes members of Congress for their efforts to provide high quality, American-made personal protective gear, uniforms, footwear and equipment to the Federal government at the best value to the taxpayer.
"I have never shied away from standing up for Connecticut manufacturers. U.S. tax dollars should go to supporting the hardworking defense manufacturers in the United States who are responsible for keeping our country safe and our economy strong," said Murphy. "I'm proud that I've been able to get bipartisan legislation that prioritizes American defense workers and priorities across the finish line. I want to thank WPRC for this award, and will continue to use my seat in the Senate to work on these shared goals."
"As a Connecticut manufacturer, Brookwood Companies deeply appreciates the leadership Senator Murphy continues to exhibit on behalf of those who build products in the United States," said Frank Montie, Chairman of the WPRC. "He is a singular and consistent voice for the importance of American manufacturing, especially for those companies who create products for soldiers, sailors, airman and marines. Our company and our industry is fortunate to have the Senator's support for the essential industrial base that supports the warfighter."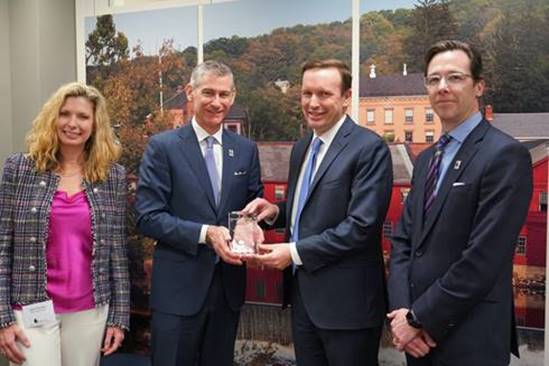 "The Warrior Protection and Readiness Coalition's (WPRC) Sentinel Award is the association's highest honor, presented annually to policymakers who have demonstrated extraordinary support for the American industry that manufactures advanced combat clothing and equipment for the Armed Services. Sentinel Award recipients are recognized as the leading advocates for American warfighters and peacekeepers, as it remains critically important to provide those who serve our country with domestically-manufactured body armor, combat clothing, boots, helmets and equipment that provides our Armed Services with an insurmountable combat and training advantage. Senator Murphy has been a tireless advocate for American jobs and American industry and the WPRC is pleased to recognize him for his constant commitment to the U.S. industrial base," said David Costello, Executive Director of the WPRC.  
Murphy has been a champion of Buy American laws since his time in Congress. After hearing concerns in 2018 from a Connecticut-based drone manufacturer, Murphy called on then U.S. Secretary of Defense James Mattis to ban Chinese-made commercial drones at the DoD and instead support U.S. drone manufacturers. DoD followed Murphy's call and halted the purchase of all small commercial drones, including those made by Da Jiang Innovations. Additionally, Murphy secured more transparency and critical protections for American companies against foreign-made drones in the Energy and Water Development Appropriations Act of 2019, which partially funds the Department of Interior. This was critical for national security and a "Buy American" victory for Connecticut-based companies that have to compete with artificially priced Chinese-made drones. Murphy's provision banning the use of Chinese-made drones was included in the FY2020 National Defense Authorization Act. Murphy and U.S. Senator Rick Scott (R-Fla.) also introduced the American Security Drone Act of 2019 prohibiting the U.S. government from purchasing drones manufactured in countries identified as national security threats like Iran and China. 
After a series of meetings and discussions with the White House and a U.S. General Services Administration feasibility report mandated by a Murphy appropriations provision, Murphy successfully convinced the Trump administration to create BuyAmerican.gov based on Murphy and U.S. Senator Rob Portman (R-Ohio)'s BuyAmerican.gov Act. Murphy first suggested the BuyAmerican.gov website in a letter he sent to President Trump outlining five executive actions that the president should take to close loopholes in Buy American laws.