The Defense Production Act (DPA) of 1950 authorizes the President to mobilize domestic industry for reasons including emergency preparedness under the Stafford Act. Under Title I of the DPA, the president can mandate the domestic production of supplies such as PPE to ensure adequate stockpiles. The President can require companies to prioritize or increase production for federal contracts that are critical to national security. The President can provide economic incentives not normally available, which may include loans, direct purchases, and purchase commitments. The
DPA also immunizes companies against liability for legal damages or penalties that result from complying with rules or regulations authorized by the DPA.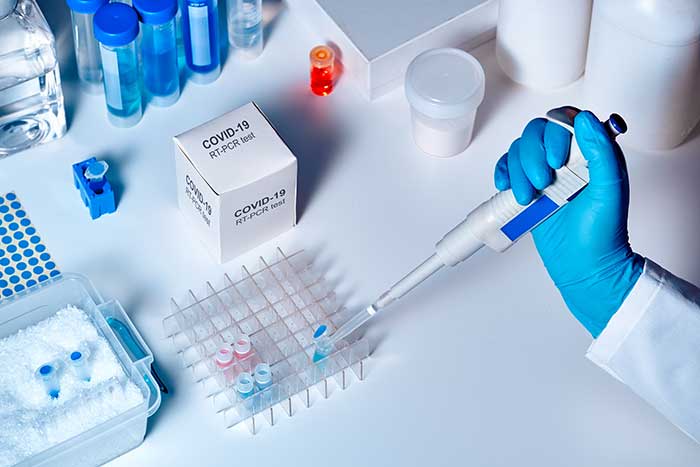 The DPA was created during the Korean War to ensure the availability of domestic industrial resources to meet national security needs. Under DPA, the President was initially provided several tools to ensure supply and timely delivery of products, materials, and services to military and civilian agencies, some of which have since been removed and amended.
Currently, DPA procurement authority is delegated to the Defense Priorities and Allocation System (DPAS) within the Department of Commerce and four agencies (Defense, Energy, Homeland Security, and the General Services Administration) can access DPA contracting authority. The Commerce Department rates DPA authorized orders as DO, obliging the company to accept and prioritize the order over all other orders, or DX which take priority over all orders including DO orders.
Current Developments
Health and Human Services (HHS) Secretary Alex Azar told Members of Congress in late February, 2020 that the United States needs a stockpile of about 300 million N95 face masks for medical workers to combat the spread of the virus. The United States currently has only a fraction of that number available for immediate use. During an interagency call, officials from HHS and the Department of Homeland Security (DHS) discussed the possibility of invoking the DPA for the manufacture of personal protective equipment that can be worn to prevent infection including masks, gloves and body suits, according to a DHS official. According to Secretary Azar, China controls "a lot of the raw materials as well as the manufacturing capacity" related to face masks, posing challenges to stockpiling equipment.
The White House confirmed that utilizing the DPA is an option the administration is exploring on February 27, including this statement:
Let's say 'Company A' makes a multitude of respiratory masks but they spend 80% of their assembly lines on masks that painters wear and only 20% on the N95. We will have the ability to tell corporations, 'No, you change your production line so it is now 80% of the N95 masks and 20% of the other.
It is unclear which items the administration is considering invoking DPA for other than N95 masks.
Some members of Congress have asked the administration to invoke DPA. A group of 57 House Democrats led by Michigan Rep. Andy Levin in a letter, as well as a separate letter by Senator Ed Markey (D-MA), asked the administration to consider invoking DPA for the "immediate increased production of swabs, viral transport media, and other testing materials," and to help ease shortages of "gowns, gloves, face shields, surgical masks, N95 respirators, disinfectant wipes, and hand sanitizer."
On March 4, HHS announced plans to purchase 500 million N95 respirators over the next 18 months. Press releases from HHS do not mention DPA authority and HHS is not one of the agencies that has access to DPA authority through the Defense Priorities and Allocation System.
On Monday morning, March 16, White House trade advisor Peter Navarro told CNBC on Monday that he's preparing an executive order that would help relocate medical supply chains from overseas to the U.S., arguing that too much of the supplies are dependent on foreign sources. The scope of this executive order is unclear at this time. Whether there is a more significant, lasting policy shift relating to the President's 'Buy American' agenda as opposed to a solution for the current crisis is unknown. Whether
it will apply to PPE manufacturing in addition to pharmaceutical and medical supplies industries is also unknown.
Sources and Additional Resources
Congressional Research Service report: Defense Production Act Purpose and Scope –Link: https://www.dcma.mil/DPAS/
Bureau of Industry and Security: Defense Priorities and Allocation System background– Link: https://www.bis.doc.gov/index.php/other-areas/strategic-industries-and-economic-security-sies/defense-priorities-a-allocations-system-program-dpas
Defense Contract Management Agency: Defense Priorities and Allocation System regulations and resources – Link: https://fas.org/sgp/crs/natsec/RS20587.pdf
Federal News Network: Contractors should prepare for the coronavirus, useful information on contract regulations during a pandemic and background on the DefenseProduction Act – Link: https://federalnewsnetwork.com/commentary/2020/02/contractors-should-prepare-for-the-coronavirus/
HHS: HHS to Procure N95 Respirators to Support Healthcare Workers in COVID-19 Outbreaks – Link: https://www.hhs.gov/about/news/2020/03/04/hhs-to-procure-n95-respirators-to-support-healthcare-workers-in-covid-19-outbreaks.html
Reuters: U.S. mulls using sweeping powers to ramp up production of coronavirus protective gear – Link: https://www.reuters.com/article/us-china-health-usa-production-exclusive/exclusive-u-s-mulls-using-sweeping-powers-to-ramp-up-production-of-coronavirus-protective-gear-idUSKCN20L2S0
CNBC: White House advisor Peter Navarro: I'm bringing an executive order to Trump that would reduce US foreign dependency on medicines – Link: https://www.cnbc.com/2020/03/16/navarro-to-bring-executive-order-to-trump-on-foreign-dependency-on-drugs.html
Rep. Levin press release: 57 House Members Urge President to Invoke Defense Production Act Authority to Increase Availability of Vital Medical Supplies – Link: https://andylevin.house.gov/media/press-releases/57-house-members-urge-president-invoke-defense-production-act-authority
Senator Markey Calls on Trump to Use Defense Production Act for Massive Wartime Manufacturing Mobilization for Coronavirus Tests, Medical Equipment – Link: https://www.markey.senate.gov/news/press-releases/senator-markey-calls-on-trump-to-use-defense-production-act-for-massive-wartime-manufacturing-mobilization-for-coronavirus-tests-medical-equipment?fbclid=IwAR1jg8IVr_9LYtvh-_VX4iKWsR31TgjC3VQ6Y-tPzAA_4xjuQiQdZuKMAwA