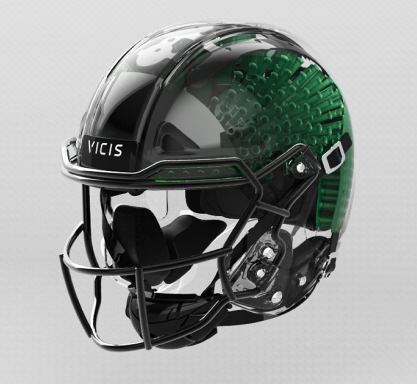 SEATTLE (Friday, October 25, 2019) – Today, U.S. House Armed Services Committee Chairman Rep. Adam Smith (D-Wash.) visited VICIS headquarters to learn more about the company's mission to minimize sports and combat-related head injuries. VICIS is best known for its ZERO1 football helmet – the top-ranking in NFL/NFLPA helmet performance testing for three consecutive years.
"The VICIS team is honored to host Chairman Smith and share our commitment to elevating head protection," said Dave Marver, VICIS CEO and co-founder. "The congressman is a strong supporter of our soldiers, sailors, airmen, and Marines, and we remain motivated by the opportunity to apply what we've learned in football to protect them."
VICIS has delivered breakthroughs in football helmet protection through its inaugural product the ZERO1–considered the most significant advancement in football technology in decades and designed to reduce impact forces before they reach the head. Earlier this year, VICIS engineered the ZERO1
YOUTH–the first helmet optimized for kids and the best testing youth football helmet in the history of Virginia Tech's STAR Helmet Ratings.
Along with protecting athletes, VICIS was recently awarded a research and development contract by the U.S. Army Combat Capabilities Development Command Soldier Center (CCDC) to improve Army combat helmets. Applying insights from medical research and advancements in engineering, VICIS is examining ways to replace the combat helmets' existing suspension pad systems with its own innovative liner technology derived from structures developed for its top-ranked football helmets. VICIS
hopes that this new liner technology will improve both the blunt impact performance and comfort of Army combat helmets. This VICIS technology could also be used in other combat helmets such as the Marine Corps combat helmets.
Current Army and Marine Corps combat helmets are designed primarily for ballistic protection, shielding service members from gunfire and shrapnel. VICIS' technology holds the promise of improving the helmets' blunt impact performance, which is a critical step forward in head protection for service
members. According to a 2013 Congressional Research Service report, approximately 80 percent of traumatic brain injuries in the U.S. military result from blunt impact not on the battlefield, but in training and other non-deployed settings.
"Our military personnel are the most valuable asset in the national defense enterprise, and their safety is of the utmost importance," said Chairman Smith. "I was glad to visit a local business like VICIS, which is leveraging their expertise in head protection for athletes to develop better technologies and safer equipment for members of the military."
About VICIS
VICIS is driven by its mission to protect athletes. Applying insights from medical research and advancements in engineering + design, VICIS creates technologies that reduce impact forces and improve performance. Since its launch in 2017, the ZERO1 football helmet has ranked first in NFL/NFLPA Helmet Performance testing three consecutive years and was named one of TIME Magazine's 25 Best Inventions. VICIS' ZERO1 YOUTH helmet is the first football helmet truly optimized for kids and is the best testing football helmet in the history of VIRGINIA TECH® YOUTH HELMET RATINGSTM. Named one of Fast Company's 2018 Most Innovative Companies, VICIS is funded and advised by current and former professional athletes Aaron Rodgers, Russell Wilson, Jerry Rice, and Roger Staubach, as well as experts in neurosurgery, sports and pediatric medicine. For more information, visit www.vicis.com.