Presents Sentinel Award to U.S. Senator Jerry Moran (R-KS) and U.S. Representative Chris Pappas (D-NH-01)
The Warrior Protection and Readiness Coalition (WPRC) announced that Senator Jerry Moran, and Congressman Chris Pappas (NH-01), have been awarded the 2023 WPRC Sentinel Award for their legislative leadership on behalf of the domestic defense industrial base that supports U.S. servicemembers and homeland security personnel. The Sentinel Award is presented annually to Members of Congress who have demonstrated enduring leadership towards ensuring high quality, American-made personal protective gear, uniforms, ballistic armor, footwear, and equipment are available to the Federal government at the best value to the taxpayer.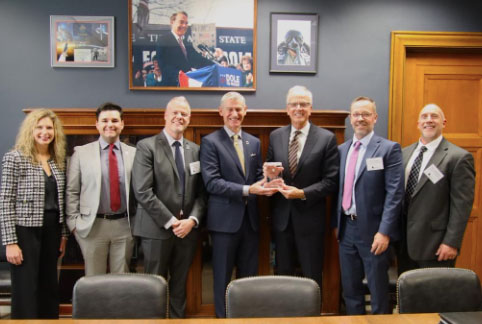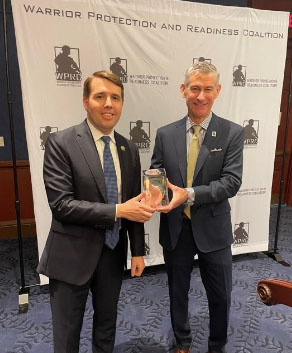 "Senator Moran and Congressman Pappas have been strong advocates for American jobs and understand how a robust manufacturing base is critical to secure the national security of the United States," said David Costello, Executive Director of the WPRC.   "As a result of their bi-partisan leadership, last year Congress passed the Homeland Security Procurement Reform Act, resulting in the expansion of domestic procurement requirements for the Department of Homeland Security.  This legislation will allow the national security components of the DHS to soon proudly be wearing American-made uniforms, footwear, body armor and related items as they perform their essential work  ensuring the security of the nation."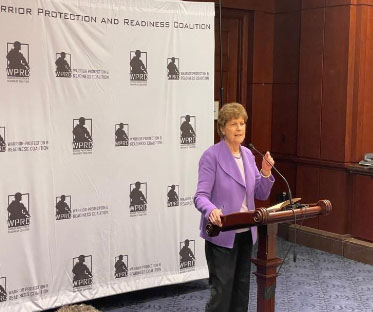 The Warrior Protection and Readiness Coalition's Sentinel Award is the association's highest honor, presented annually to policymakers who have demonstrated extraordinary support for the American industry that manufactures advanced combat clothing, equipment and PPE for the Armed Services and Department of Homeland Security. Sentinel Award recipients are recognized as the leading advocates for American warfighters and peacekeepers, as it remains critically important to provide those who serve our country with domestically manufactured products that provide our Sailors, Soldiers, Airmen, Marines, Guardians and Homeland Security personnel with an insurmountable conflict and training advantage.
WPRC member companies strive every day to provide innovative, advanced, American-made solutions to ensure that our armed forces are prepared for any encounter, anywhere in the world. Senator Jerry Moran serves on the Senate Appropriations Committee and the Senate Commerce, Science, and Transportation Committee. In addition, he is the Ranking Member of the Veterans' Affairs Committee and serves on Senate Select Committee on Intelligence. Congressman Chris Pappas represents the 1st district of New Hampshire and serves on the House Committee on Veterans' Affairs as well as the House Committee on Small Business.
The Sentinel Award presentation took place during the 2023 WPRC Legislative Summit, conducted on Capitol Hill. Over 100 association members met to advocate for best-in-class, American-made equipment, textiles and uniforms for U.S. service members, frontline medical responders, and the operational agencies within the Department of Homeland Security.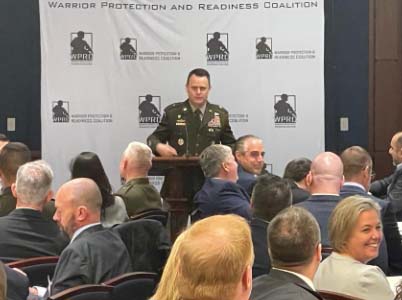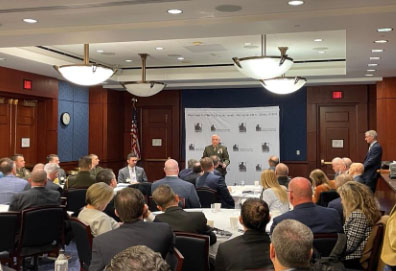 The Legislative Summit included a speaking program, allowing WPRC members to hear remarks from United States Marine Corps Brigadier General David. C. Walsh, Commander Marine Corps Systems Command; U.S. Army Brigadier General Christopher D. Schneider, Program Executive Officer, Program Executive Office Soldier; Ms. Livia Shmavonian, Made in America Director, Office of Management and Budget, Executive Office of the President, and Senator Jeanne Shaheen (D-NH), a member of the Senate Appropriations and Armed Services Committees.